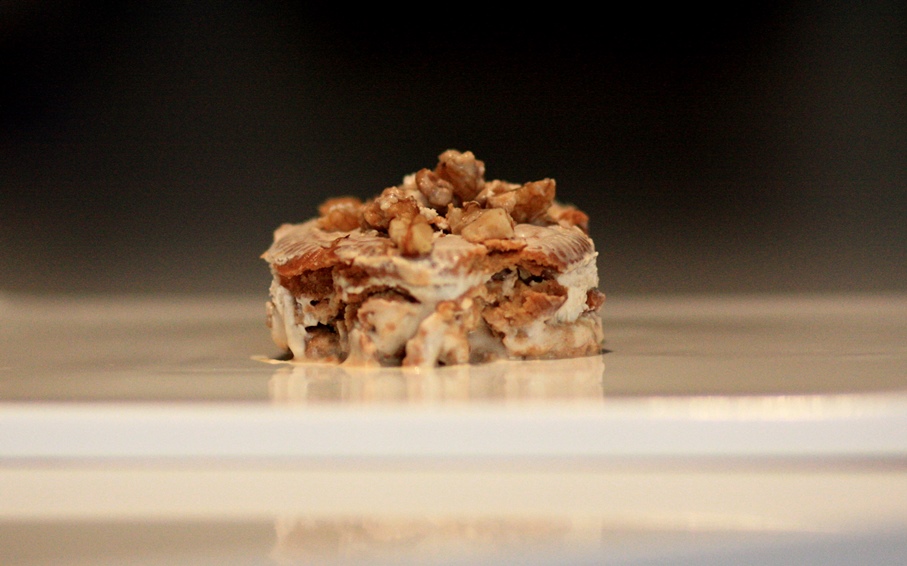 This Marie-biscuit pudding recipe comes from my sister's star cafe. So what is star cafe? As a weekend mother-daughter activity, didi has started a 'star cafe'; a cafe where she and her 6 year daughter are the chefs

. It serves many purposes but the main being that Nandini will eat what she has made herself. And so most items on star cafe menu are with fruits

Didi keeps looking for child friendly recipes. Child friendly both in terms of making and eating. She came across this one during a pot luck party at a friend's house. Last weekend when they were visiting us, the star cafe chefs made this biscuit pudding in my weekend kitchen

. And what's best this biscuit pudding requires no cooking at all! Just about 10 minutes of assembling and then leave it to set in the refrigerator. You can also prepare this a day in advance.
Marie biscuit pudding
Preparation: 10 mins| Refrigeration Time: 4-5 hrs | Serves 8
3-4 tsp instant coffee powder
1 cup lukewarm water
450gms cream
4-5 spoon castor sugar
1tsp vanilla essence
1 packet Marie biscuit
1 cup chopped walnuts
Mix instant coffee powder in 1 cup lukewarm water
Beat together the cream, sugar and vanilla essence
Dip Marie biscuit in coffee and put a layer of them in a glass dish
Pour the coffee on this layer with a spoon
Now add a layer of cream
Sprinkle a layer of chopped walnuts
Now repeat the layers, one layer of biscuit dipped in coffee, one of coffee, one of cream and then sprinkle chopped walnuts
Cover the dish with cling film and refrigerate for 4-5 hrs
Scoop out and serve individual portions. As an afterthought, I think it would be better to set the pudding in the first place in individual ramekins! The only negative with that would be that one won't get to see the lovely layers!